Disinfectant Surface Spray

At Convoy Anti-Microbial, we are dedicated to revolutionizing the way we approach hygiene and infection prevention. With cutting-edge technology and a commitment to excellence, we are at the forefront of providing innovative anti-microbial solutions for a safer and healthier environment.
CONVOY Anti-Microbial Disinfectant Surface Spray disinfects and cleans all types of surfaces without damaging the material.
It contains xCid, an innovative compound with a bacteria killing rate of 99.999%, a new generation of biocides. Keeps all surfaces sanitized for weeks. Safe, effective and environmental friendly for long term.
What is Xcid?
Xcid is an antimicrobial and a novel member of the cationic family disinfectants with a unique yet powerful efficacy/safety profile.

Xcid is biomechanically engineered to actively disinfect broad spectrum of pathogenic and /or drug-resistant organisms, including MRSA, without causing antimicrobial resistance.

The future lies in sustainable environmentally friendly decontamination systems.
• Able to kill harmfull bacteria (99.999% killing rate), fungi, most viruses and eliminates mold.


Properties of Xcid?
• Eliminates foul smell.

• Non-toxic to humans and animals.

• Long-lasting.

• Non irritating to skin (non-allergic).

• Non corrosive and can be used on delicate materials.
---
CONVOY Anti-Microbial Surface Disinfectant Office/Home D.I.Y Kit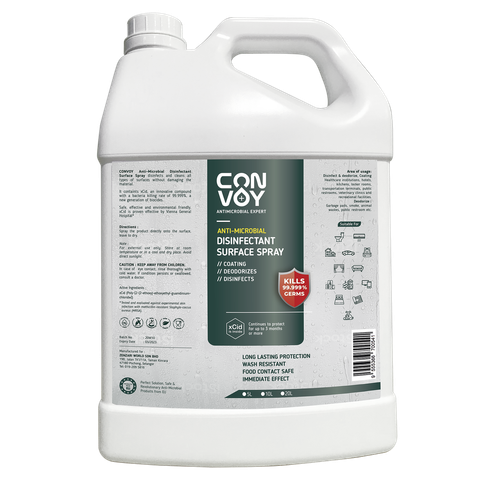 CONVOY Anti-Microbial Disinfectant Surface Spray (5000ml)
CONVOY Anti-Microbial Disinfectant Surface Spray (1000ml)