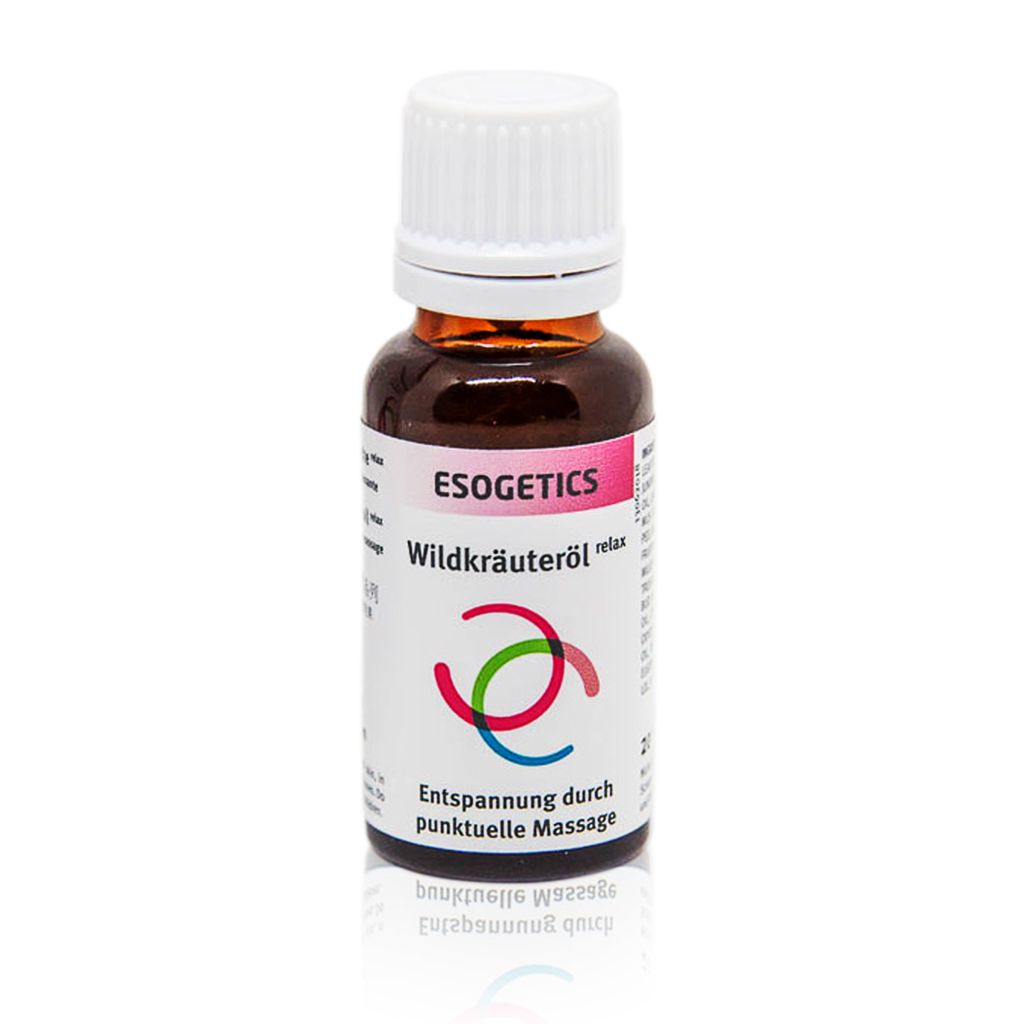 Description
Esogetics-Wildcrafted Herbal Oil (relax) uses the time-tested power of nature and is distinguished by a perfect mixture of essential plant oils. Through the application upon specific skin reflex zones, the effect of the Wildcrafted Herbal Oil (relax) can be developed in a targeted manner, thereby creating the prerequisites for your well-being.
Ingredients
Mentha Piperita Oil, Mentha Arvensis Leaf Oil, D-limonene, Eucalyptus Globulus Leaf Oil, Juniperus Communis Fruit Oil, Illicium Verum Fruit Oil, Linalool, Rosmarinus Officinalis Leaf Oil, Thymus Vulgaris Leaf Oil, Citrus Aurantium Dulcis Peel Oil, Foeniculum Vulgare Fruit Oil, Carum Carvi Fruit Oil, Pinus Sylvestris Leaf Oil, Pinus Mugo Pumilio Twig Leaf Oil, Lavandula Angustifolia Oil, Citrus Aurantium Flower Oil, Eugenia Caryophyllus Bud Oil, Cinnamomum Zeylanicum Bark Oil, Cymbopogon Nardus Oil, Juniperus Oxycedrus Wood Oil, Salvia Officinalis Oil, Menthol, Camphor, Alcohol, Aqua, Eugenol, Cinnamal, Geraniol, Citronellol, Isoeugenol, Farnesol, Citral
Recommended Application
Massage 2 - 3 drops of Wildcrafted Herbal Oil (relax) gently for 1 - 2 minutes, at the selected points in the appropriate zone of application. Never rub into more than 3 zones simultaneously (please adhere to the combination instructions and sequence). In the case of zones situated as a pair, always begin with the left side.
Cautions
Do not allow upon damaged skin, in the eyes or on mucous membranes. The the event of contact, immediately rinse with water and, as necessary, consult doctor. Do not use with infants or small children.